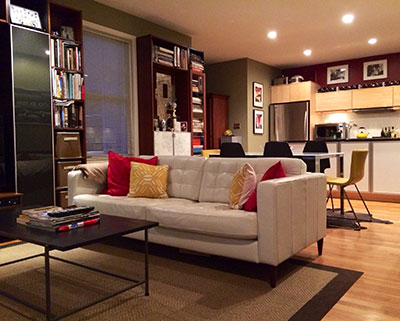 Constructed:  2007
Owners: Eric and Rachel Booth
What History?
The Urban Cottage is practically brand new, having been built in 2007. Aside from the 1970s style split-level home on Pressley Street, this house was the first new, privately-funded home construction in Deutschtown since the 1920s.
Current owners Eric & Rachel, purchased the home from Chris Capato, who originally had the house constructed. Chris formerly lived in the turn-of-the-century, three-story townhouse at 420 Tripoli Street, having purchased it in 2002 from East Allegheny Community Council.  Chris quickly involved himself with community and civic life as an EACC board member, volunteer, and host to many a wonderful party.  In 2006, Chris sold 420 Tripoli to Tim and Jen McNulty.  With the sales proceeds, he set out to build an 1100 square foot, two-bedroom house in Deutschtown.  "I want to build a new house in this neighborhood because I love it here!" Chris stated when he requested to purchase the alley lot from East Allegheny Community Council.  The EACC board approved the sale in August of 2006 and by September Chris had plans, a variance approval, and a contractor.
The Plan
The house boasts a traditional townhouse exterior with historic proportions, cladded with Hardy Board siding, and is finished with custom wood doors, and custom galvanized half-round gutters and round rain-leaders.  Inside, the house bucks tradition, boasting a completely open lower-level floorplan.  The kitchen, being the focus for the first floor, has a large island adjacent to the dining and seating areas.  To the right of the kitchen are a powder room and a parlor, leading to a private courtyard. When the Booth's purchased the home in 2011, they added their own touches to this modern abode, filling it with color, and even painting the doors a vibrant red to reflect the color palate of the interior.
Green Building
All of the countertops are made from Paperstone, an easy-to-maintain, green-building material which looks like slate and resists scratching.  The stair risers are made from renewable cork, John Hancock Construction recycled unused building materials, and the insulation values exceed D.O.E. standards.