To promote public safety in East Allegheny is a fundamental tenant of the East Allegheny Community Council. Below are some community safety resources to help increase safety in our community.
Community Reporting Tool
In addition to 911 or 311, please report all issues and incidents to the EACC Safety Coordinator using the submission form link below. Information will then be summarized and reported out monthly to Zone 1 Police, Councilman Wilson's office, and Mayor Gainey's office.
Report your incident here:
Community Reporting Submission Form
Camera Database
EACC is compiling and maintaining a temporary database of local private cameras to be shared with the police. The Pittsburgh Police are overhauling their database and once it is ready this information will be transferred to them and the EACC database removed.
To report the location of your camera and your willingness to help, please use the submission form link below. Please note this database is only accessible by the EACC Board and will only be shared with the police.
Report your camera here:
Camera Database Submission Form
Additional ways to report all incidents and provide camera information to EACC
call or text: 412-321-1204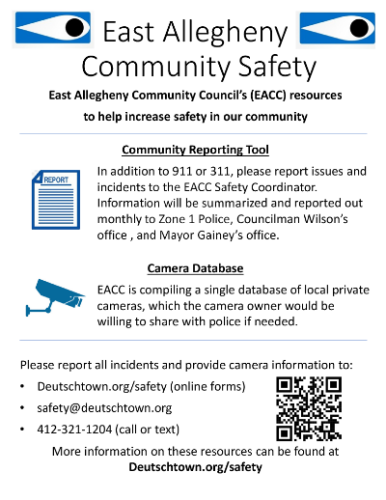 911 or 311
Should I call 911 or 311? Click HERE for a helpful resource: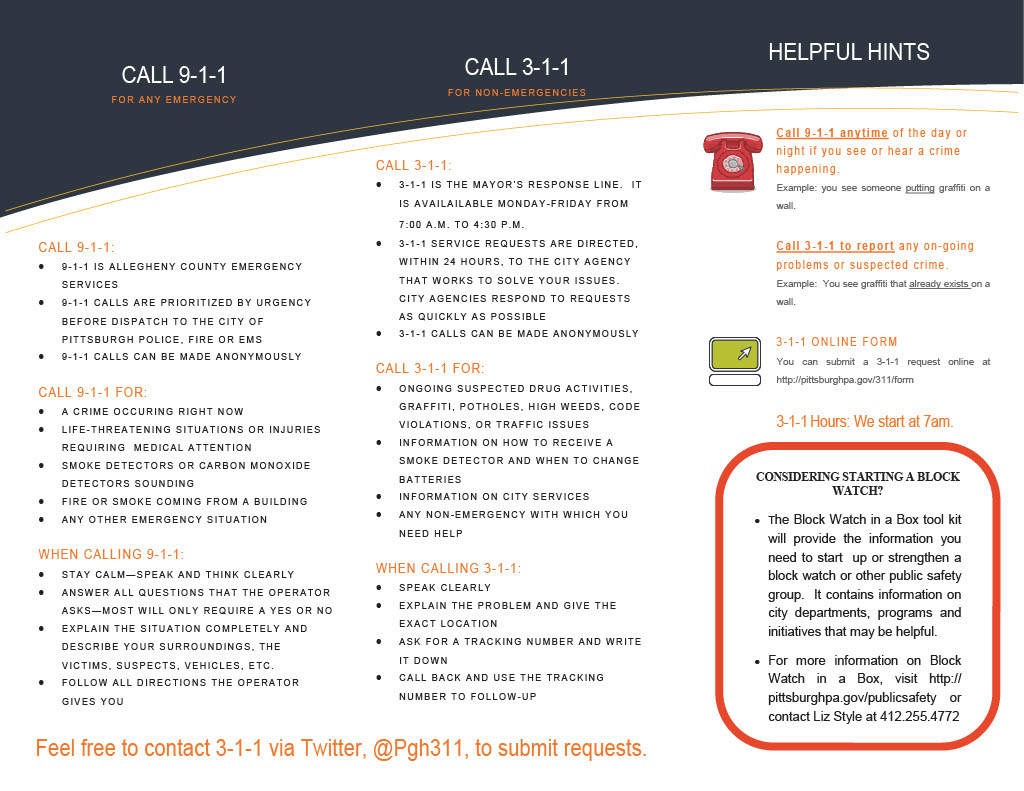 You can submit an online 311 request to the City of Pittsburgh by clicking HERE
Northside Public Safety Council Meeting
The Northside Public Safety Council (NSPC) meets the first Thursday of each month from 5:30-6:30pm.
For more information on the NSPC and to attend or become involved, please email NSPC at zone1psc@gmail.com
Here is the NSPC Facebook page: https://www.facebook.com/groups/nspsc