Come play in Deutschtown! We have several annual events and activities that attract neighbors and residents from across the city and beyond.
Farmers Markets
Fridays from 3:30 to 7:30 p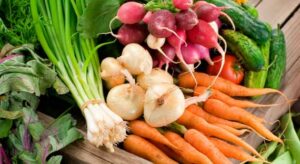 m, May-November, Allegheny Commons East Park, East Ohio Street & Cedar Avenue.
The setting for our Farmers Market couldn't be better: under a canopy of trees in East Commons Park along Cedar Avenue. During the peak summer months and into the fall you'll find hundreds of neighbors shopping among dozens of booths.
Expect at least a dozen friendly farmers with lush displays of fresh, locally grown produce, even flowers. In addition, you'll find Amish-made cheeses and breads, freshly prepared foods, and other vendors offering samples of their tasty jams and salsas. Our Farmers Market is a part of Citiparks.

Deutschtown Music Festival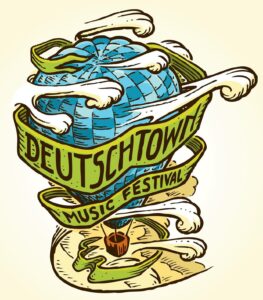 Each year in early or mid-July
This newer event celebrated its inaugural event in July 2013. In 2019, over 400 bands rocked Pittsburgh's Northside with this free music festival in Deutschtown!
Festival goers enjoy a variety of indoor and outdoor venues throughout the neighborhood at this mid-summer festival, starting at noon and ending late into the evening. Enjoy jazz, blues, rock, bluegrass, German, electronic, and more. The festival is family friendly by day, and adult-focused at night. Food trucks line Foreland street and Allegheny Commons Park, while local restaurants and bars serve late into the night.
Keep up to date with all the details on the Deutschtown Music Festival Facebook Page, and the Deutschtown Music Fest website.
Historic Deutschtown House Tour

Fall, every 2-3 years
7-9 beautiful homes and gardens!

Our self-guided Deutschtown Historic House Tours feature distinctive restored homes, many built in the late 1800s, and some modern surprises. Tour-goers enjoy a diverse array of interiors, architecture and styles, as well as beautiful gardens.

Detailed information and tickets for the next tour will be available on the tour's webpage.
German Parade & Auto Display
Fall 2017
Historic Deutschtown hosts the Alliance of German Speaking nationalities Parade and auto display, culminating in a traditional German buffet available to the public at Teutonia Männerchor.
The day begins at the historic Allegheny Commons East Park near East Ohio Street. There the antique German autos – Porsches, Volkswagens, Audis, BMW's and Mercedes — line up with their proud owners before the parade. Visitors are welcome to chat with the owners and view the cars.
At 11 a.m. the parade begins with German, Austrian and Swiss societies participating, in the parade along with their dancers and singers. They take time out for brief performances in front of the reviewing area at Priory Fine Pastries.
Pumpkinfest
October of each year  
Pumpkinfest is the largest children's fall festival in the City of Pittsburgh, and it's right in our very own backyard! Each year, East Allegheny Community Council puts together an afternoon of fall fun for neighborhood children and their families to enjoy.
For almost 30 years, we've partnered with Citiparks, Allegheny General Hospital, Allegheny Center Alliance Church and many other community organizations to offer an unforgettable day of hay rides, games, pumpkin decorating, rides and more. In 2018, we had more than 5,000 kids and adults in attendance, welcomed more than 25 community organizations, businesses and service providers, and distributed hundreds of pounds of candy!
For information on becoming a sponsor, please contact Barb Burns at 412-231-7170.
Please click here to go to the Pumpkinfest page: Pumpkinfest
Holiday Events
As the December holiday season rolls around you'll start hearing about a series of neighborhood gatherings, including an EACC neighborhood mixer and a small Light Up event on East Ohio Street.
Local businesses, too, offer holiday events or sales and our pubs and restaurants host celebrations for businesses and organizations.
This time of year is a celebration of our community and the spirit of giving.