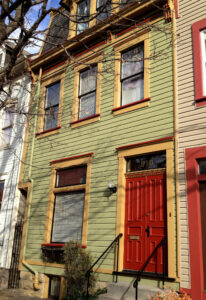 Constructed: circa 1870s
Renovated: 1997
Owner: Randy Strothman
A Friend Raved About It
Randy hails from the North Hills, most recently having lived in Highland Park.  He moved to Deutschtown because "a friend raved about it" and he wanted to be closer to the city, Cultural District, the Strip District, and to his parents, who still reside in the North Hills.  Randy saw incredible real estate values and potential for more development, and moved to 910 Middle Street in 1997.  He has served as the past President of the East Allegheny Community Council.
Style
"The EACC and NSLC did a nice job of saving the historic details of the house," shares Randy, "and those kind of features are things that I really appreciate, today."
910 Middle Street is the only historic structure from a four-house development of rowhomes to the left of this property; they were all built in 1997, made to match the period.  Randy's Victorian showcases a painted wood clapboard facade, mansard roofline and first floor picture window.  The beveled exterior siding and the decorative wood brackets date this house to the High Victorian era of the 1870s.  Note that in narrower rowhomes, main staircases sometimes rise perpendicular to the axis of the house, as is the case at 910 Middle Street.
Randy has an affinity for Haitian art, seen throughout his home, and the bold colors of these paintings are found on many of his interior walls, which also showcase photographs and paintings by himself and other local artists.
Mr. Green
The shared backyard compound incorporates parking and provides asurprising greenspace in the middle of so much urban density.  Randy oversees the community garden space adjacent to the property, where he and neighbors grow organic vegetables and flowers.  He watches over the plot from his porch, where he hosts afternoon meetings and visits with his friends and associates.
As a neighborhood community activist, one of Randy's triumphs was coordinating the planting of trees and the greening of this community, including ridding Thropp Street of drug dealers and replacing it with lovely plantings.  On Fridays, you can find Randy at the Farmer's Market in the park, one of his favorite community spots.