2016 Deutschtown House Tour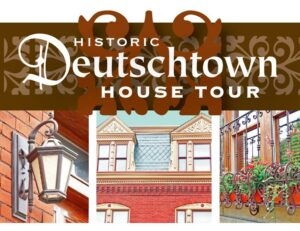 The 2016 Historic Deutschtown House Tour is on Sunday, September 25, from 11 a.m. to 4 p.m. Our self-guided tour features distinctive restored homes, many built in the late 1800s, along with some modern surprised. Expect a diverse array of interiors, architecture and styles, as well as beautiful gardens. Then enjoy great food at a Deutschtown restaurant!
To get a feel for what to expect, view a photo gallery of the last tour in 2014.
Tickets were $18 in advance, but online ticket sales are now closed. If you purchased a ticket online, your name will be on a presale list at the check-in table.
Tickets purchased at the check-in table will be $20.
To see periodic updates and information about the event, see the Facebook event page. Help spread the word about this great event by sharing the page with your friends!
Check-in for the tour is in the municipal parking lot near the new Deutschtown mural, located on the side of the building at 507 Foreland Street, Pittsburgh PA, 15212. Parking in the municipal lot and on the street is free.
Of note for the 2016 tour is that 100% of the net proceeds will be donated to the Allegheny Commons Park! This contribution will aid in efforts to rebuild the northeast fountain, which is original to the park's 1869 design. Read more about that project here.
Questions? Contact Gina Grone at ginagrone@gmail.com or 412-626-1832.